IGBO Organization Presents Newly Elected Executives To Obiora Okonkwo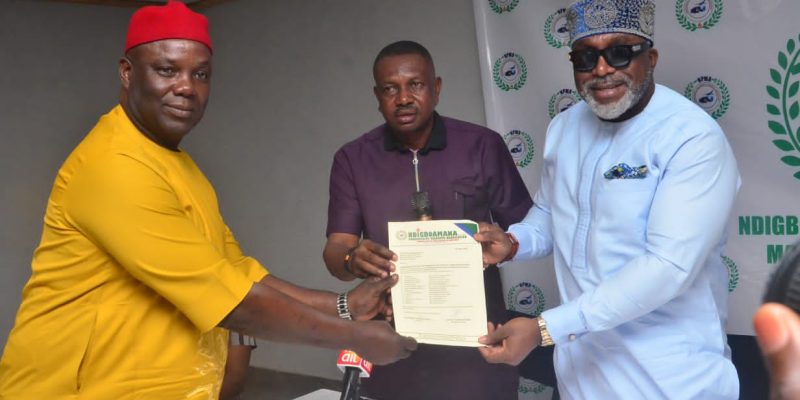 By Joy Enamuna
One of the Igbo socio- economic organizations, 'Ndigboamaka Progressive Markets Association" Lagos State, led by its President, Hon. Comrade Chinedu Ukatu, on 18 May, 2023, presented the list of newly elected executive members of the association to the Grand Patron, Prof. Obiora Okonkwo, a former gubernatorial candidate in Anambra State and the Chairman of United Nigeria Airlines.
Ukatu disclosed this in Abuja, during a courtesy call by the Association on the Grand Patron, Prof. Okonkwo, to intimate him of their activities and recent developments in the association.
Chinedu stated that the last executive members of which he was the Secretary-General expired since October 2022, but because of the situation in the country then, a meeting was held where they unanimously agreed that their tenure should be extended for few months, till after the 2023 general elections. And that executive election eventually came up on May 1 2023, Nigerian elections having come and gone by then.
Continuing, he said: "To the glory of God, the election was held, even as it was free and fair. Consequently, we the new executive members, emerged to pilot the affairs of this association for the next 4 years. So, it is for this reason that we are here to brief you as our Grand Patron, and also to seek for the way forward".
It must be noted that Hon. Comrade Chinedu Ukatu, is also the Secretary of Akuluouno International Traders Association, owners of Akuluouno international Market Enugu. He is also a member of Lagos State Markets Advisory Board.
In his response, the Chairman United Nigeria Airlines, Prof. Obiora Okonkwo (Dikeora), commended the new executive members for the successful conduct of a free and fair election. He used the opportunity to say that Igbo traders, especially those who reside in Lagos State, contribute trillions of naira to Nigeria's economy yearly. And it is important to say that this association controls over 58 markets across Lagos State, which are dominated by the Igbos.
Speaking further, Chief Obiora admonished the qssociation to make their presence more prominent and publicise their contributions to the nation's economy, in order to earn the needed respect or recognition.
According to him: "You've done something worthy of emulation by electing your new executive members, and INEC needs to emulate you. As your national Grand Patron, I didn't interfere in your election. And I must at this juncture say that it is important that those in leadership positions should allow the people to chose who lead them.
"There are about 58 markets that make up this association. And a larger number of your members are from the South East. You churn out trillions every year. This group needs recognition from the Government. And for you to be appreciated, you need to let people see the wealth and money you bring to Lagos State. You indeed need to give this association the recognition it needs across Nigeria. There's nothing wrong in being a trader. I'm a trader and a professor".
"Traders should be proud of themselves. Onitsha Market has trained many billionaires. I'm a product of Onitsha Market and we're all over the world, making Nigeria proud."
High Chief Prof. Obiora Okonkwo, OFR, is the Chairman of United Nigeria Airlines, Chairman/CEO of the Dome located in Abuja, Founder/President of Nigeria-Russia Chamber of Commerce and Industry, the President of Nigeria-Belgium Business Forum, and Bisiting Professor at Nnamdi Azikiwe University Awka.
In conclusion, Prof. Okonkwo, thanked the Association for finding him worthy of being their patron, and promised to always work and contribute his quoters in order to move the association forward.
Thereafter, a list of the newly elected executives was presented to him
by the President of the association, Hon. Ukatu.
In continuation of their courtesy visit, the leadership of the Association visited a Deputy Speaker aspirant, Hon. Benjamin Okezie Kalu (Member, House of Representatives) who they said they had come all the way from Lagos to honour for his outstanding leadership qualities and good representations, not just to his constituency but the entire Igbos in general; even as they attributed this to his emergence as APC choice for Deputy Speaker which they also said was justified.
In his remarks, Comrade Ukatu said that they were proud of Hon. Kalu for his representations and numerous achievements in the Green Chamber.
The Association appreciated him for stepping in to quench the turbulence that loomed in Lagos after the elections, thus saving many lives.
While enquiring from Kalu the reason he decided to step down from the Speakership race as he was qualified for the position, the association however said it was ready to support whatever decision he takes.
In the meantime, the association thanked the All Progressives Congress (APC) for zoning the Office of the Deputy Speaker to the South East, and more-importantly for making Hon. Ben Kalu their choice, saying that he has the competency, pedigree and capacity to deliver.
Members of the group assured Hon. Kalu that Igbo traders all over Nigeria would always support him.
Ndigboamaka seized the opportunity to announce that they have officially made him the organization's Patron in Lagos State, reassuring him of their committed support at all times.
Responding, the lawmaker appreciated the group for coming all the way from Lagos to pay him a courtesy call, as he said, "The Office of the Deputy Speaker is one that will serve the entire SouthEast geo-political zone, not just my constituency, Bende or Abia state".
'I will use my position, as a Deputy Speaker House of Representatives, if elected, to support your association and the entire SouthEast".
He guaranteed them of his knowledge of the problems affecting the region and his commitment to proffering solutions to them.
Hon. Kalu added, "You people should not hesitate to let me know whatever you feel that I can do as a lawmaker, to bring success to the SouthEast. I'm ready, with my Igbo colleagues, to partner with your organization", he concluded.
The list of newly elected executives from the various market union amalgamations, under the auspices of Ndigboamaka Progressive Markets Association:
HON. COMR CHINEDU UKATU,
President Ndigboamaka Progressive Markets Association.
NZE MARCEL OKEZUE,
President Alaba Electrical Dealers Association.
Vice president Ndigboamaka Progressive Market Association.
CHIEF DR ANTHONY OKEKE.
President Mandilas International Trade- Centre , Lagos Trade Fair Complex Lagos.
General Secretary Ndigboamaka Progressive Markets Association.
PRINCE AFRICANUS OGUDORO,
General secretary Ladipo market, Also Assistant General secretary Ndigboamaka Progressive Markets Association.
HON. COMR OBINNA O OBICHUKWU,
President Refrigeration and air-conditioners dealers association lawanson Lagos (Rada).
Public Relations Officer Ndigboamaka progressive markets association.
MR CLEMENT O, MOLOKWU,
Chairman Association of fashion wear dealers Lagos.
Financial secretary Ndigboamaka progressive Association.
HON. METU A. EJIKE. Chairman BOT Association of registered freightforwaders Nigeria (AREFFN). Organising Secretary Ndigboamaka Progressive Markets Association.
CHIEF EZEKWONNA RUFUS IKECHUKWU,
Chairman Emeritus, Association of fashion wear dealers Lagos.
Contact and mobilization Ndigboamaka Market Association.
MR. IFESINEKE IFEDIORAMMA,
General Secretary Building Materials Market Abule Ado.
Chief Provost Ndiigboamaka Progressive Market Association.
MR. EGWUATU ARINZE VICE Chairman Phone Dealers Lawanson.
Ass -Provost Ndigboamaka Progressive Markets Association.
HON VINCENT IKWUEZE,
Executive Chairman, Olojo drive and Environs Traders Association, (ODETA). Secretary General: Alaba international Amalgamated Traders Association (AIATA).
Zonal Coordinator of Zone 2 Ndigboamaka Progressive Markets Association.
CHIEF TOCHUKWU EZEANI,
President Emeritus Mandilas international Trade Center, Lagos Trade Fair Complex Lagos.
Chairman elders council Ndigboamaka Progressive Markets Association.
Okebaram- Prince reporting for Reality International Magazine