Ondo Amotekun Parades 26 suspected criminals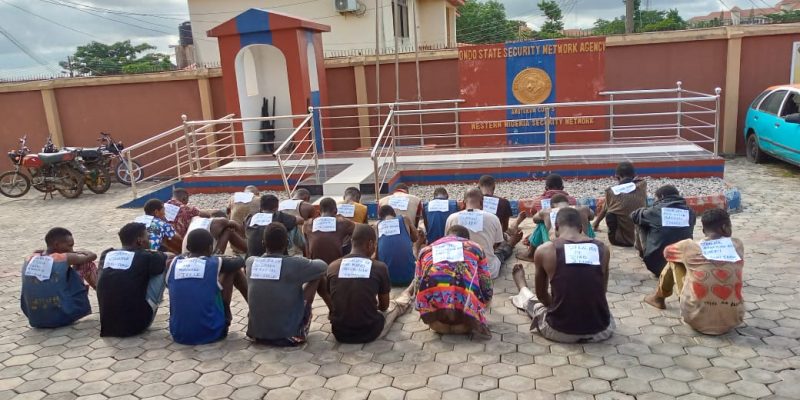 By Precious Oluwole
Not less than 26 suspects have been paraded by Ondo State Security Network Agency, code named Amotekun on Wednesday.
The suspects were paraded at the command headquarters for stealing and house breaking, rape, conspiracy to suspected robbery, assault and attempted murder, kidnapping, among others.
According to the State commandant of Amotekun, Akogun Adetunji Adeleye, the suspects who had been constituting security risk and nuisance were arrested within the state in the last one week.
Adeleye, however advised the public to be weary of those that pretend to be mad people.
"We have two cases and it's becoming rampant, almost every week, where on searching these mad people, we found expensive phones and we found out that majority of them only pretend to be mad in order to gather informations in the particular area where they intend to operate. We have two of them, one from Idanre and one from Igbara oke".
"If you notice an usual movement about so to say mad or lunatic people, let the security agencies know on time before they carry out their activities. It is actually dangerous to accost a mad man, anything could happen, thereafter. The best thing is to give us a timely information and we will contact relevant security organizations to assist in ensuring that they are brought to book".
"Last week, we assisted the Federal Road Safety Corps in enforcing the abuse on registration number on vehicles and motorbikes, so, we are open to all agencies for such assistance. So, the ministry of women affairs in the State is also collaborating with us on all these, especially if we have timely information"
"We also have a pathetic case of a kidnapper, their gang kidnapped and killed a victim who came from Ogun State. In the interest of collaboration, we contacted our Ogun State colleagues and we were able to find out the family of the victim and the suspect is here, the first part of that crime actually took place in Ogun State".
"So, we are set to handover the suspect who had been on the wanted list of Ogun State police to the police command of Ogun State any moment from now".
"We have another syndicate of arm robbers that operate on the highways that were caught in the act. Some of them actually opened fire on our men on patrol while they were caught in the act of armed robbery. So, all of them, 26 in total had been profiled and in conjunction with the office of the public prosecution will take them through the normal prosecution process".
The commandant reassured the good people of Ondo State that while relying immensely on their support for timely information, the Ondo State Security Network Agency will continue to work hard to ensure that our society is rid of criminal activities.
"Our message for the criminals is that there's no hiding place for them in Ondo State. To those that are hibernating in the forest, the government has recently closed down the forestry reserves in the state and this is with a view to ensuring that all the security agencies in the state join efforts to completely drive them away from the forest where they are hibernating out of Ondo State".
On the rival cult clashes that took place in Owo, yesterday, Akogun Adeleye revealed that Amotekun operatives are already out and are trying to arrest the culprits, so as to bring the situation under permanent control.
Akinmola oyekanmi, a 30 years old farmer attested that he had done two successful kidnappings with his gang and mistakenly shot the victim whom they kidnapped along Mowe in Ogun State and they had not collected any random before his death. "We were four that carried out the operation but the rest have ran away", he said.