FG vows to prosecute POF Saboteurs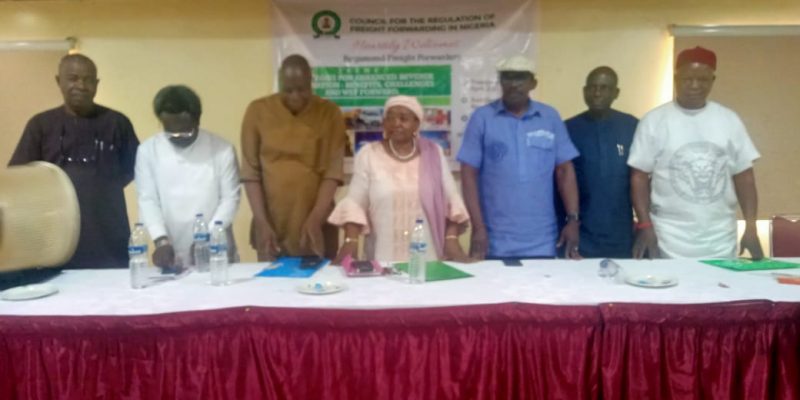 By: Joy Enamua
The Federal Government, through Council for Regulations of Frieght Forwarders in Nigeria (CRFFN), says the council is ready to prosecute anyone who would try to Sabotage collection of Practioners Operating Fees (POF).
Speaking during a Town Hall meeting, which took place at Rock view Hotel, in Apapa, Lagos, with the theme: POF Enforcement, Strategies for Enhancing Revenue Generation-Benefits, Charllenges and Way Forward.
The Acting Registrar/CEO of CRFFN, Mrs. Chinyere Uromta enumerated the numerous Charllenges of the council and that necessary majors are currently in place to address them.
Still at the meeting, which gave Frieght forwarders an apple opportunity to bear their minds on series of extortion by Shipping Companies, Terminals Operator and government agencies inside the ports, She said "in accordance with CRFFN Act, FG has put in place Disciplinary Tribunal and investigative panel that would address infringement of POF"
While appealing to Frieght Forwarders who haven't been benefiting from Declarant (insentives from POF), to be partcient with the council and she promised that it would be fully resolved within the next few months but urgent forwarders to pay the POF themselves for easy identification.
Addressing how POF came about, Mrs. Chinyere said that "the POF was initiated in 2010 by the first Governing Council as a source of revenue to the Council but formally commenced in 1st March, 2021 after series of meetings with the Honourable Minister of Transportation".
Also speaking, the Chairman, Committee on Enforcement, Monitoring and Compliance, CRFFN, Mr. Timothy Awogbemi, said some Frieght forwarders are blocking the collection of POF especially at Airport while some also Short change the council by under paying.
In his paper presentation, which was title with the theme of the event, Chairman, Committee on Fund Raising, Chief Increase Uche suggested to some Frieght forwarders who have issues with shipping companies to use Alternative Dispute Resolution (ADR) that will help to resolve it faster.
Enlisting some Charllenges of the Council, he said "deliberate refusal to register with the CRFFN by some Freight Forwarders. Constraints of lack of funds cripples the productivity of the Council. Risk of Freight forwarders' connivance with the releasing staff at the terminals who issue TDO'S leads to loss of revenue.Impediments to regular training of the Enforcement Staff of the CRFFN".
"Circumvention of the payment of POF during Transire Manifest transaction.
Weak regulations on penalties against defaulters. Not putting measures to block all avenues of revenue leakages/losses through adequate monitoring and enforcement exercises. Poor funding of some essential activities of the Council particularly, some of the identified issues facing practitioners.
Difficulties in integrating with parties in the cargo documentation/clearance chain".