Corps member donates solar-powered street light to FUTA
Eight solar panel street light costing about N1.4 million has been donated and installed at the North gate of the Federal University of Technology, courtesy of Miss Maryam Adegboyega ,a Batch C, Stream 2 National Youth Corps member serving in the institution.
The gesture tagged LIGHT UP FUTA is aimed at reducing perceived risk experienced by users of the gate, especially pedestrians in the night hours.
Presenting the project to the University Management, Maryam said she feels humbled and privileged to be able to contribute something meaningful through her personal community development service.
She thanked the Vice Chancellor, Professor Adenike Oladiji for the support and encouragement offered at all times. She also particularly thanked her numerous sponsors, including the FUTA Alumni for making the project see the light of day. Maryam promised not to give up in the course of serving humanity in her future endeavours.
Speaking at the occasion the Vice Chancellor, Professor Adenike Oladiji, represented by the Head of Department, Electrical Engineering, Engineer (Dr) Olabode Ale, commended the project describing it as laudable and one worthy of emulation.
She said it's most strategic as the project will directly benefit staff, students and several other people going about their activities especially at night on the ever busy road linking the south west with other parts of the country.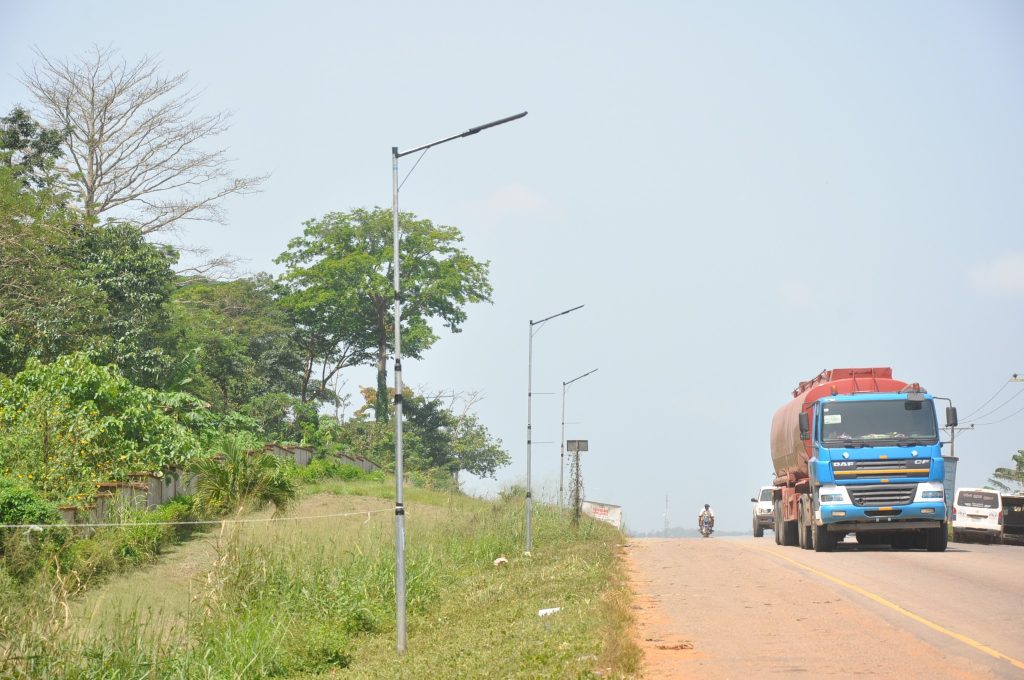 She congratulated Maryam and assured her that posterity will be kind to her for the generous gesture. She said the NYSC scheme goes beyond serving in unfamiliar environments and charged other members to try and emulate Maryam, assuring them that there is great reward in service to humanity.
In a short remark, Director, Julius Okogie Central Research Laboratory, Maryam's primary assignment place in FUTA, Professor Johnson Agbede spoke highly of Maryam describing her as a serious, studious, honest and a hard working lady.
He noted that her project is worthy of a state recognition and he would stop at nothing at ensuring that she gets recognition for her worthy contribution to FUTA.
Speaking similarly, the State Coordinator NYSC, Ondo State, Mrs. Victoria Nnena Ame ,represented by Mrs. Eunice Adeyemi ,explained that the community development service, CDS, is the second cardinal activity in the NYSC scheme aimed at encouraging corps members to partake in different activities that will bring development to the various communities they are serving.
Mrs. Ame congratulated Maryam and also thanked FUTA management for providing an enabling environment to make this project possible.
In a post event chat, Maryam, a 2020 Animal Science graduate from the University of Benin and an indigene of Osogbo Osun State said her future plan is to acquire tech skills, particularly in Data Science for self-development.
Not ruling out the possibility of a Post Graduate programme, she said "I am not ruling out doing my Masters programme. However, if it is in Nigeria, it must be FUTA. This is because with my little stay around here, I have discovered that FUTA products are of world class standard. She admitted that there are lots of opportunities outside Nigeria, yet the country is still not doing badly in the area of capacity building."
Maryam described the NYSC scheme as a laudable one affording opportunities and encouraging cross culture cooperation and alignment.