NAGAFF appoints new head of operations, vows to work with anti-graft agencies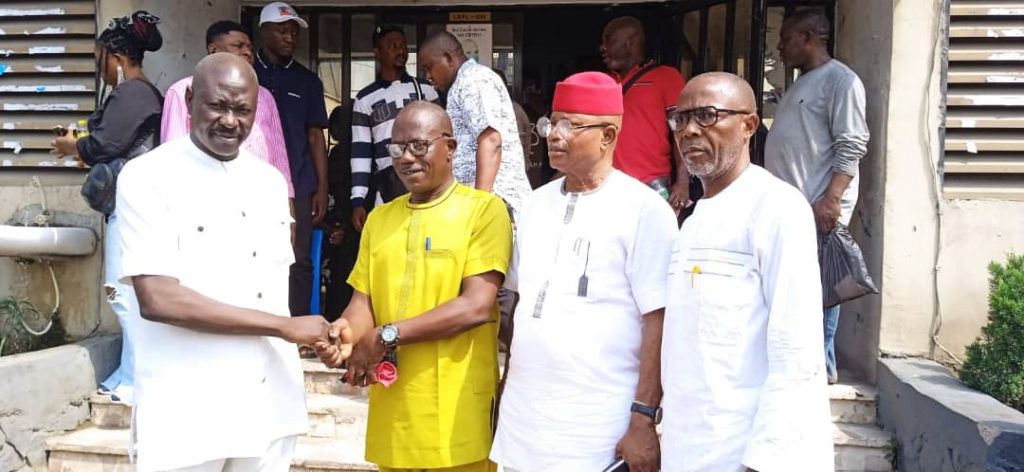 By: Joy Enamuna
In order to have a smooth operations this year, the newly reconstituted. 100% Compliance Team of National Association of Government Approved Freight Forwarders (NAGAFF) has taken proactive steps towards realising its mandate.
To this effect, the National Coordinator of the Compliance Team, Alhaji Ibrahim Tanko has appointed the former Vice Chairman, Tincan Island Chapter of NAGAFF, Fwdr. Stanley Ejiogu as the Head of Operations of the Team.
Alhaji Tanko who announced this during the inaugural meeting of the newly reconstituted Team at its secretariat in Eleganza Complex, Wharf -Apapa , Lagos said the appointment has become necessary inorder to commence execution of their planned actions, adding that more appointments would be made soon.
He stated that they (Compliance Team members) are now ready to work and however solicited for the cooperation and understanding of chapter chairmen of NAGAFF in the discharge of their duties in the interest of the freight forwarders, NAGAFF and other stakeholders in the industry, stressing, "we are not here to witch- hunt anybody. Let them not see us as enemies. We are partners in progress and from one big family, NAGAFF."
Tanko who said it would no longer be business as usual , adding that his team would rapport with the security agencies in the Industry such as the Police, EFCC, including the ICPC in order to ensure total compliance to trade rules , assuring that undue delay of cargos at the ports, demurages, multiple alerts, over charges would be a thing of the past .
His words, "We will work with security agencies such as EFCC, ICPC and we have had meetings with them , we have understanding with them and they are ready to work with us . In fact, we will even go for training with them on how to get facts and figures. So we are ready to work now and anybody who thinks he is a god , we are going to tell him, he is not god."
"A lot of thing is going wrong. Everybody doing what they like. Talk of Customs, talk of shipping companies, Terminal Operators, Bonded Terminals, even Nigerian Shippers' Council is even the worst. People that suppose to help us are not helping us.
"I have come back to ensure that people do the right thing . Just for example, if the President assign responsibility to Minister, directors and others, then, do you expect him to come and do the work? And if they fail to perform, they should be blamed, not the President."
"We have NPA, we have Shippers' Council, We have Minister of Transportation, we have CG of Customs, we have Comptrollers in various places, we should lay our complains to them. Bonded Terminals have increase their transfer charges without consulting anybody, while Shippers'Council management is there watching them without saying a word. So, there are a lot of issues.
The 100% Compliance Team Boss who however urged his team members to be be committed to duty and ensure honesty, transparency in carrying out their task in order to fulfill their mandate, remarked that the group still retains its former name, 100% Compliance Team as against 100% Compliance Task Team as seen in some online media.
Speaking also, the Chairman of Compliance Team ,Western Avenue, Dr. Fred Ajuzie emphasised the need for seriousness, commitment and dedication by the members to the actualisation of their set targets.
Dr Ajuzie urged them to emulate the exemplary footsteps of the National Coordinator of the team, Alhaji Ibrahim Tanko by going extra miles in their assignments to achieve results.
In his acceptance speech, the newly appointed Head of Operations of 100% Compliance Team, Fwdr. Stanley Ejiogu described his new position as a heculian task but pledged to live up to expectation.