Ondo 9th Assembly Dissolved As Speaker Commends Governor Akeredolu's Leadership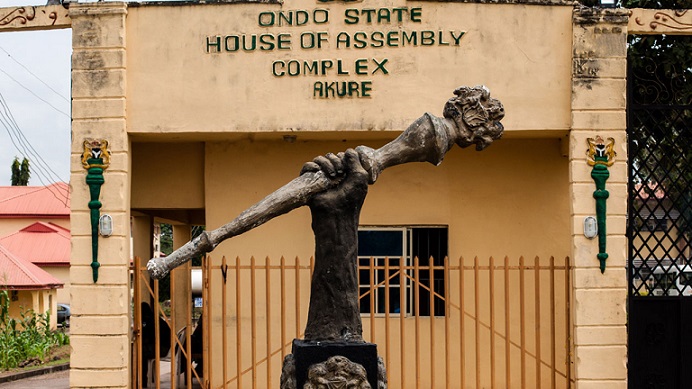 By Precious Oluwole
It was carnival – like at the Ondo State House of Assembly complex as the State 2019/2023 parliament (Ninth Assembly) was being officially dissolved.
The dissolution was done at a valedictory plenary to mark the end of four-year tenure, which was presided over by the Speaker, Bamidele Oleyelogun.
It was in pursuant to sub-section (1 and 3) of section 105 of the Constitution of the Federal Republic of Nigeria 1999(As Amended).
The 9th Assembly attributed successful stay to God who helped discharge their duties as representatives of the people and contribute their quota to the development of the State.
While welcoming the lawmakers and guests, the outgoing Speaker, Rt. Hon. Bamidele Oleyelogun appreciated God for a successful completion of tenure, as well as the Governor, Oluwarotimi Akeredolu for the enabling environment to legislate.
Oleyelogun who highlighted the achievements of the 9th assembly, said over 63 bills were passed into law during the last four years while few others that scaled second reading, had been committed to committees stages, noting that the bills have no doubt given succour to the people of the State as well as contributed to their general well-being.
He advised the incoming 10th Assembly to always put the people first and expressed the hope that they will consolidate on the 9th assembly's achievements and continue to make the sun to shine in the State.
He urged them to see themselves as trustees of the entire State as well as reminded them of the primary needs of their people whose mandate they got.
He, however, commended Governor Akeredolu for his purposeful leadership that has transformed the entire state positively.
Other outgoing Lawmakers while giving valedictory speeches separately during the plenary thanked God and the people of their constituents for giving them the opportunity to serve.
According to them, a lot of lesson were learnt while the mandate and experiences to legislate will continue to lived with them.
They commended the leadership arms of government in the State for the enabling environment to operate and the Staff of the Assembly for their cooperation to dispense the task which has added value .
To them, they have come, seen and conquered and are forging ahead, recalling that the 9th Assembly was inaugurated four years ago in June just like yesterday which winded down successfully today.
The outgoing Lawmakers affirmed that although, nobody is perfect but have served their constituents and the State deligently to the best of their abilities.
While saying that the Assembly institution is another school of thought with different ideas , they said no doubt have learned more on the roles of a good leader.