PDP Will Win Ondo For Atiku – Olafeso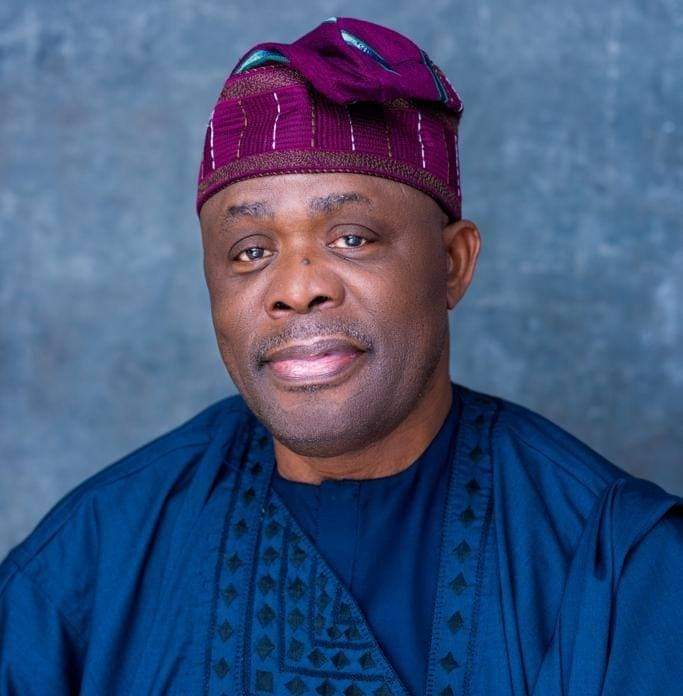 Dr. Eddy Olafeso, a former National Vice Chairman (South West) of the People's Democratic Party, PDP, is the Director General of the party's presidential campaign in Ondo State. In this interview, Olafeso speaks on the chances of the party in winning the 2023 general elections in the State and other issues.
You were recently appointed as Director General of the Presidential campaign of PDP in Ondo State. How has it been so far in that responsibility?

Well, every responsibility is a challenge for you to prove your loyalty to the party and for you to be creative, innovative as well as bring above all, victory to your party. After the inauguration, I have started working with all sense of seriousness, and we have been working assiduously to ensure outright victory. We have done everything possible to mobilise our people. The state of the nation is worrisome and anything that can bring about change must be allowed to permeate, I have spoken virtually with everybody, including leaders across the 18 Local Government Areas and we believe rallying support for Atiku will bring the desired change that Nigeria needs at this moment. The last seven and half years have been hard for our people; there is hunger in the land, insecurity and unemployment. Sadly, so many things are going wrong in the country. However, this is a clarion call to effect the change.
You recently held the presidential rally in Ondo State; how was it?

It was successful, peaceful, well organised and we focused on unifying the people. Christians and Muslims were arranged together. At the rally we touched key areas of governance like education, security, economy and building the better tomorrow for the younger generation of Nigeria. We also met with some of the Obas in the State. Atiku thanked the people of the Sunshine State for the love showed during the 2019 election and also for their renewed support in his quest to become the next president of Nigeria.
One of the major absentees at the rally was former governor of Ondo State, Dr. Olusegun Mimiko, who is one of the major leaders of the party not only in the state but across the country. What will you say accounted for his absence?

He is in the better position to give account on that, but as for us in the campaign council we accord him all respect, he was briefed on everything that we did but maybe there are challenges to his choices at this moment, we do not know, and I think he is in a better position to explain why he was not there since it was a major party rally, one would have expected him to be there.
Are you counting on the possibility of reuniting or reconciling those on a side before the election?

For sure, I preach unity every day, it is my duty to bring people together and it is my duty to make them understand that we are stronger together and we can do a lot together when we are united. I have no doubt that 24 hours is a long time in politics and we can still find an equilibrium for the general election.
It seems to be one of the former governors is to align with the popular G5 Governors who are more or else opposed to the ambition of Atiku, as an experienced party man, what would you say is the solution to the rift between the presidential candidate and the G5?
For me, my position is very clear, I believe in the constitution of the party, and that of the Federal Republic of Nigeria, I am not a fan of absolutism and arbitrariness, so I am of the opinion that they should have a rethink about what they are requesting for, because it is apparent that everything they want is the resignation of Ayu, but our history has been checked, so the move is not in confirmity with the constitution, hence we can't begin to abuse it, you will recall that Uche Secondus was thrown out of the office through a court decision with a recourse to the section 57&58 of our constitution. Undoubtedly, the will of one man can't override the entire process of building a democratic institution. I disagree totally from their point of view. In the history of our party, it is not only once that we have had a president from a particular side of a country with a sitting national party Chairman. But I'm optimistic that everything will be sorted out and we will take a look at the whole idea and we will allow every of the zones to participate.
It is all about jostling for the soul of the party with a view to capturing power and it is only God that gives power, not individuals, that is why we have to tread softly in what we are trying to do, and more importantly in rebuilding Nigeria for Nigerian people. Today over 95million Nigerians are living below the poverty line, more that 7,000 were killed in the North East insurgency, over 7million people are in IDP's camp, people have abandoned their means of livelihood, they have fled to where they think their lives are safe, all these are enough to worry a state man. But the problem I have is that it appears criminality has taken over the politics, the political class has been taken over by criminal minded people that are neither politicians nor state men, those things should worry us. Our country is motherless, even criminal elements register to vote in our country.
I'll admonish our brothers to please consider Nigeria far more important than individual interest, and also put away the idea of seeing Nigeria as an entity of the north. If the issue of zoning has actually helped Nigeria since 1961, why are we still where we are? Our quest now is to seek competent leadership that can lead Nigeria out of this conundrum, this under development is a disgrace and an embrassment to the continent of Africa and the rest of the world. Look at our citizens, they are fleeing the country, running away because the dysfunctional system. So many of our young people have perished on sahara highway enroute the Mediterranean sea. It was said in a radio programme that many of their parents will never find them again. We lost thousands upon thousands of youth running away, yet the political class has the luxury of seeking positions based on geography. I'm not preaching equity, I am saying that the greatest shortcut to unity, equity, justice is getting somebody who is a democrat, who has the intellect and vision to rebuild a nation that will see itself as one. What they are driving at will never produce the country of our dreams. So that is the reason, in most of my discussions, I insist that let us find a leader without using prejudiced yardstick. To me, I think they will find their bearing along the line but the world cannot wait. We will continue to do the best we can and hope that destiny will take us to the right destination.
The PDP won the Presidential election in Ondo state in 2019. Do you think the party stands the chance of repeating same feat?

If we work very hard. Howbeit, nothing comes easy, nothing comes free. We must commit ourselves and ensure that we do the very best to win again. It is not something that will be handed over to us on a platter of gold. When hunger sets in, principle takes a walk. The truth is that people can no longer wait for tomorrow so as to meet their needs. Money may play a critical role in this election, and if it is so, it means we have to work as hard as possible to convince the people that it is not going to be a failed promise one more time. In 2015, Buhari failed all the promises given to Nigerians and he was re-elected in 2019. Our people have become so docile, they lack the strength to fight anymore. Look at what is going on in the environment. Three hundred and fifty (350) per litre? The second largest oil producing country in the world? Go to anywhere to buy anything, not to talk of food and school fees. Children are dropping out of schools, teachers are not being paid; universities were locked down for eight months. Our insensitivity has grown to the point of us not knowing what is next. The kind of people they brought up to actually lead the future, the same people that have buried their head in the past and can no longer see the future. How can you manage somebody you know is mentally feeble, physically emaciated is this is the candidate that you want to leave the future in his hands? How can that be possible? We are in a precarious situation. How can APC not show remorse for its colossal failure? These are my questions to them. But then, we will try our best to let Nigerians know that nothing good can come out of APC after eight years and it's about time we look otherwise. Let us pick somebody who probably will hit the gun running who through his personal experience can actually define prosperity for Nigeria.
Atiku is not a failure in any form, either as an entrepreneur, as a politician, he has not been a failure. If he so much desires this position, I think he feels there is so much he can do for the country. I have known him for over two decades and I know for sure that there is consistency in his humanity. He remembers people and I believe that by his diverse lifestyle being the husband of a yoruba women alongside other tribes that he must have been married to as a muslim, he understands the country better than any other person and I think he can build bridges that can lead us to a better tomorrow. He volunteered and he said within 100 days he is going to review the 2014 constitutional national conference with a view of taking a look at the constitution and see if a lot of things can be done to correct the errors of the past. Restructuring at the economic level and devolving power to local government and all. I think we should give him a chance if he says he is going to do that and we judge him on the basis of the promises he has given to the people. The bundle of the colonial heritage must be broken into pieces for all of us to continue to start a new beginning. This country can be great, no doubt about it. There are too many gifted people here but look at it, it has become an empty clan. Doctors leaving every day; young people migrating into pain and misery. Home is empty. Our plea to Nigerians is that we must begin anew. The era of our leaders flying everyday to go and treat themselves in London must be a thing of the past. Enough is just enough! APC has failed. It must leave. In Ondo state, we will win and across the entire country, PDP's winning will bring in a new beginning for the country.
PDP has two senators in the state, but unfortunately both of them lost out during the primary. The fact that they are not going to be actively participating in the general election, do you think this poise any kind of danger to the chances of PDP in the state?

That's true! One did not contest his defeat. The senator representing the central senatorial district did not contest his defeat. The one that is representing the southern senatorial district is at the supreme court. We are very confident that issues will be resolved and everybody will participate and victory will be ours very soon. All I know, fully well, is that we are more committed as a body rather than individual quest for power. Well, we are challenged. I cannot tell you that we are not, because all resources belong to the ruling party and they will deploy it massively against us. In our modern politics, money plays a very critical role and I know that in the circumstance of Nigeria as at today, with over 85 million people below poverty line, money will play a major role. But I know we will overcome all these because the people have seen the usual trick of the politicians to buy them every four years and leave them in their poverty. We will continue to enlighten them and make them understand that their future is far more important than the current situation they are facing.?
After Former Governors Olusegun Agagu and Rahman Mimiko left office, PDP has not been able to clinch the Apex seat, despite it performances at subsequent elections, what is the party doing to return to power?

A rethink about our strategy and we must adopt equity and fairness in the sharing of power and I think that was what affected us in 2020 and I believe that the leadership will consider all ramifications to ensure that the mistakes we made in the past will be corrected in the future. That, I am very sure of.