ADEWOLE ADEBAYO the Ondo Price who wants to be President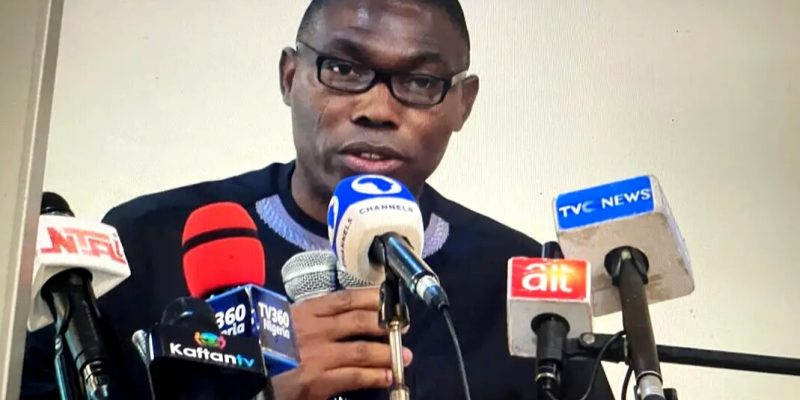 The Presidential Candidate of Social Democratic Party (SDP), Prince Adewole Adebayo, has in the last few months climbed the ladder of popularity among Nigerians as the 2023 general elections draw nearer and he's not mincing words in calling on Nigerians to vote for his party in the 2023 presidential election.
With many Nigerians yearning for a departure from the two major national political parties in the country, Adebayo's SDP is not only giving the Labour Party a run to be the third force, it is steadily gaining momentum on campaign across the country.
Speaking during a flag off campaign of the party's governorship candidate, Dr. Umar Ardo and his running mate, Mr Amos Sunday, in Adamawa State, Northeast, Nigeria last weekend, Adebayo said the SDP will ensure that the people of Nigeria enjoy both social and economy dividend as enshrined in chapter two of Nigeria's constitution.
He added that Nigeria has a strong army that can protect its citizens and the SDP will provide the needed political will to restore peace, defeat terrorists, cattle rustling and end insecurity in the country.
The SDP Presidential Candidate further said they will build dams to avert flood disaster "the Lack Chad Basin" will be revived for fishing and agriculture in commercial quantity. He assured Nigerians that the SDP will complete the hydro power projects to give Nigerians stable electricity and will build road networks, railways across the country "from Calabar across Benue to Borno"to open the economy with more commercial activities and build tertiary institutions.
At different for a, the SDP Presidential candidate has said Nigeria's problems are surmountable, vowing to kick out poverty in 18 months and boost the nation's economy, stressing that the next president must have competence, courage and character to rebuild the country and restore hope to Nigerians.
Adebayo also said the country would continue to grapple with the challenges it is presently facing, unless it gets honest and purposeful leadership. According to him, all the problems, including banditry continued to fester because of lack of sincerity of purpose by the nation's leaders, saying,'' What we call security problem in Nigeria is the regular day to day problem, in Nigeria we have mere skirmishes from bandits.
''Any problem that AK47 can solve is not a problem, the government is not just serious enough to attend to the problem, there is nothing serious, the Nigerian Army is very strong. I have done my assessment, I think the Nigerian Army is using two per cent of its attention on Boko Haram because they have seen that it is not the priority of the government.
''They have a lot of people who are making money from these things and others say let me join them because I will soon retire and they won't pay my pension and this moron here is claiming N1 billion a week, so let me join them. That is what is happening. The bandits make money and the security people make money. That is what is happening.''
The Ondo-born founder of KAFTAN Television added that, ''I have a plan for 30 million jobs. When people have jobs and you put people in school, you create the middle class and solve the problem of poverty. The job comes with accommodation and other incentives then, poverty will go away."
While promising to create 30 million jobs if elected president, he also stressed the imperatives of competence, courage and character in the choice of a good president for Nigeria in 2023, saying only a leader with such attributes would help rebuild the country and restore hope to hopeless Nigerians.
"I have a plan for 30 million jobs and tackle poverty in Nigeria within 18 months. When people have jobs and you put people in school, you create the middle class and solve the problem of poverty. The job comes with accommodation and other incentives then, poverty will go away", he boasted.
According to him, until there would be honest and purposeful leadership, Nigeria might just still continue to grapple with almost the challenges in the country. While emphasizing that only the person with capacity and capability can bring the country out of the woods, Adebayo said all the problems, including banditry, continued to fester because of a lack of sincerity of purpose by the nation's leaders.
Adebayo said that those he called the big parties were "big for nothing because they have not been able to solve big problems confronting the country", be it education, security, energy, electricity and health sectors.
''How can you call yourself a big party, when you don't have big ideas and you cannot solve big issues in the country? They cannot pull the electorate out. In elections, they get about eight per cent of the electorate. If you tell them 40 per cent of the electorate are voting they get worried that they may lose the election", he said.
Adebayo said, ''they are spending criminal money. So ideally, the limit set by the Independent National Electoral Commission, any serious political party should be able to meet. Look at the legal limit for spending on the Presidency, we can meet that easily. If only our executives and willing members contribute money we would have a better convention than APC, PDP, more colourful, more quality and we raised the money by ourselves.
"So the Economic and Financial Crimes Commission did have to use their sniffing dogs on our people to find out if they are carrying dollars in their pockets. We had a very good outing, INEC and observers were very impressed.''
Echoing the candidate, the National Secretary of the SDP, Dr Olu Agunloye, expressed optimism that its presidential candidate Adebayo will restore hope, lead Nigeria to unity and prosperity if elected in 2023. Agunloye, in a statement, said that Adebayo "is one with a fervent and messianic zeal for equity, justice and sustainable economic development. He will gradually become recognisable to all Nigerians soon."
The statement reads: "Recently, former President Olusegun Obasanjo was reported to have declared that he has "no preferred Presidential candidate" after he had 'auditioned' several presidential candidates and consulted widely.
"This OBJ's no preferred candidate conclusion, speaks volumes on the situation in Nigeria and about the former president himself. First, let's take the latter. The position by the former president shows that he remains the enigmatic statesman that strives to be bold and forthright without caring whose ox is gored.
"Although many expected he would use the opportunity to endorse the candidature of his younger friend, Mr Peter Obi, I was not expecting him to pick any of the Presidential candidates.
"It has, therefore, become clear that, as of the beginning of September 2022, none of the candidates has worked hard enough to earn such an endorsement from the former two-time president, who is fixated on the need to bring Nigeria out of the woods, into the league of developed nations.
"I also believe that President Obasanjo had factored in how deeply Nigeria has sunk into economic failure, the neck-breaking local and foreign debts, the degradation of social and civic values and the stranglehold of gross national insecurity, perhaps induced by the government itself."
"Truly, OBJ hasn't deciphered these sterling qualities yet in most of the Presidential candidates. But, indeed, there is one of them endowed with all these. He is Adewole Adebayo, a young 50-year-old lawyer and the presidential candidate of the Social Democratic Party, SDP.
"This candidate is one with a fervent and messianic zeal for equity, justice and sustainable economic development. He will gradually become recognisable to all Nigerians soon. He will bring hope again to Nigeria. Sooner than later, Adebayo will emerge and become the publicly preferred presidential candidate and he will be recognised and endorsed by statesmen, including our revered former presidents, National and State elders, youths, women, professionals, artisans, craftsmen, creative artists and pensioners", Agunloye said.
THE MAN, ADEWOLE ADEBAYO
Prince Adewole Adebayo cannot be missed in a crowd. The immensity of his numerous aptitudes and the effervescence of his charm stand him out at every gathering. One can hardly meet a more confident man, an individual who cherishes the life of the mind, invests in its cultivation and continually stand out for his brain, lucidity and logic.
He easily ranks among the most educated and able Nigerians in any field, and certainly one of the very best yet to hold a public office, and one of the most committed to the public good through his philanthropy gestures in Africa and beyond. Adebayo's talents are strengthened by a tough character built on the old values that are anchored on hard work, honesty and resilience.
This awesome talent was nurtured in Ondo kingdom and he has devoted his adult life to making it better for all. A direct descendant of Osemawe Odunola, grandson of Osemawe Lamele and direct descendant of Alaafin Onigbogi and Alaafin Sango of Oyo Ile. Adewole Adebayo was born on the 8th of January 1972.
After completing his Primary school in Ondo, his mind was sharpened at Saint Joseph College, Ondo and further refined at the prestigious Obafemi Awolowo University where he graduated with honours in Law. In OAU, not only did he run a successful law programme, but also participated in National activism as a great Nigerian student.
He was called to Bar in 2000 after completing his bar exams from the Nigerian Law School, Lagos. In 2002, shortly after his return to Lagos following his NYSC in Kogi State, he joined Tunji Abayomi Law Firm where he quickly rose through the rank.
Adebayo later acquired Masters of Law at the University of Jos. He participated in the activities of Nigerian Labour Congress as a comrade and he made friends across Nigeria who admires him for his strength of character, integrity and zeal. He later left the law firm of Tunji Abayomi for Abuja where he established his personal law firm, "Adewole Adebayo & Co., House of Law".
As a principal solicitor, he came into prominence as a leader in his professional field while also investing in the future of young people by employing corp members lawyers and teaching them. With seasoned lawyers as associates and partners, he has groomed many seasoned lawyers over the years.
The share breath of Adebayo's knowledges, his broad mind, the clarity of his analysis and his competence soon brought him to the national limelight. Adebayo became known as a young man who handles every difficult task with aplomb. There same qualities that had enabled him to succeed in the country's legal circle eventually brought him to international limelight as many international businesses and conglomerates began to entrust him with the legal fate of their firms.
A member of the International Bar Association, Adebayo later returned to school inn the United State of America completing the New York Bar Exams in flying colours. Today, his practice cuts across all the continents of the world. Adebayo is licensed in California, New York and courts of the United States. He has substantial law practice experience UK, Europe, Australia to mention a few. He is a fellow, Chartered Institute of Arbitration Nigeria, Singapore and United Kingdom.
Adebayo is the chairman Blueprint Global Group Washington DC, Board Adviser of US Black Chambers of Commerce, Board Adviser National Black Chambers of Commerce USA. He is also President and Board Chairman of several corporations in the US, Nigeria and East Africa. A farmer and chairman of Agbedes Agric Projects, Adebayo is the Chairman of Sai Phytochemicals, producers of Slain drugs for treatment of sickle cell anaemia in India and Nigeria.
As the chairman of Africa Dialogue Mission (ADM), Adebayo was in 2006 appointed by the United Nations Organisation and ECOWAS as Commissioner on the Truth and Reconciliation Commission in Liberia.
Adewole decided in 2016 to relocate his businesses to his hometown of Ondo city in order to contribute to the development and growth of the town and the state as a whole. In December 2016, Adebayo held a one-week retreat at his country homes in Ondo Kingdom. It was at this retreat that the objectives and mission statement of KAFTAN TV was birthed. KAFTAN TV is headquartered in Ondo with additional offices in Lagos, Abuja and Washington DC in the United States of America.
Adewole Adebayo is a recipient of many awards in recognition of his service to his state, community and to humanity. In March 2021, he was recognised by the Ondo state government as the indigene who pays the highest personal income tax to the Ondo State Government. In November 26, 2021, he was bestowed with the award of the Best Media Proprietor of the year by Nigerian Union of Journalists (NUJ).
Adebayo sponsors nearly 2,000 young Nigerians in Nigerian and foreign tertiary institutions, in addition to numerous people he has financially empowered across the country.
Adebayo is a public affairs commentator who provides advice on national issues on occasion and participates in Nigerian politics as a member of the Third Force.
On January 15, 2022, Adewole Adebayo declared his intention to run for the office of the Nigerian president.