2024: qualities Ondo's next govmust have to succeed – Adeniyan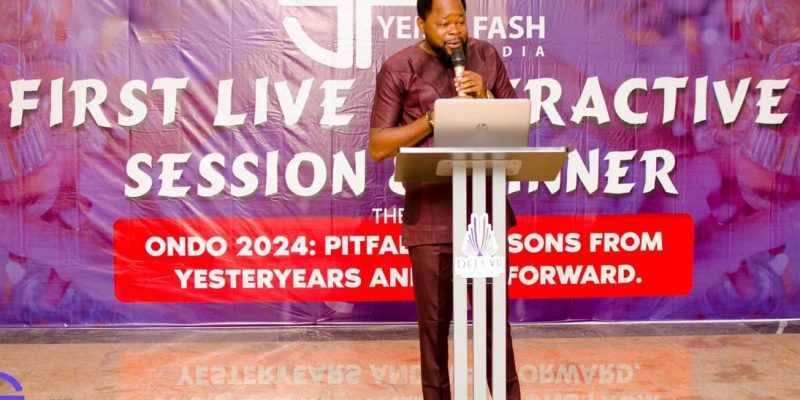 Ahead of the 2024 governorship election in Ondo State, prominent journalist and media entrepreneur, Prince Ebenezer Adeniyan, has highlighted the qualities that the next governor of the State has to possess and what the priorities must be in order to achieve success in office.
Adeniyan, who is the Publisher/Editor-in-Chief of TRACE News Magazine and Special Assistant on Media and Publicity to the Minister of State for Transportation, was speaking on Sunday at the first Interactive Session and Dinner of YemiFash News Platform in Akure where he delivered a lecture titled 'Ondo 2024: Lessons from yesteryears and the way forward'.
Analysing the qualities and impacts of the governors elected in the State since the return of democracy in 1999, Adeniyan said there is the need for the people of the State to elect a governor who will jettison ego and petty politics and continue the capital projects and policies of his predecessors in office.
He said: "Since 1999, we've had a school teacher, a geologist, a medical doctor and a lawyer as governors. It is understandable to say that each of the four governors since 1999 has ruled in a unique way and it may be difficult to determine which one has been the best among them in governance because we all measure development with different parameters and often with personal bias. However, we can continue to learn from the past in order to shape the future.
"My opinion is that in all, we have not had any bad governor since 1999. We have been led by good men, even if we disagree with their style of governance. Our development has been steady, even if we wish it could be more rapid. We can only take the decision to make sure we elect another good candidate next year. We must move forward and not backward.
"I do not want to go into what qualifications or background the next governor should have so as not to give any impression of promoting any of the known contenders. However, I think one of the main lessons from yesteryears is for us to see how we can replicate the good in our past governors in the next person coming on board.
"We might, therefore, need a governor that is capable of possessing and embracing the bests of our four governors since 1999. Our next governor must be well-read and exposed like Agagu, must take the job seriously like a paid employee like Adefarati, must promote social service-driven development like Mimiko and must be honest and fearless with strong political will like Akeredolu."
The multiple award-winning journalist and author also threw his weight behind the call for the next governor of the State to come from the southern senatorial district.
He said: "I must align myself with the shift of the governorship seat to the southern senatorial district of the State in next year's election. This is not necessarily about zoning or rotational governorship. It is about equity. With the central and northern senatorial districts completing two full terms in succession, it is only right for the next governor to come from the southern senatorial district to complete the cycle, notwithstanding the rights of candidates from other parts of the State to contest."
Adeniyan then suggested ten things that the next governors must do in order to make meaningful impact in office, which include not making appointments based on political patronage alone, revamping the economy by mobilising support for Small and Medium Enterprises, reconstructing and maintaining the existing roads before opening up new ones, not establishing any new higher institution, collaborating with federal lawmakers on project facilitation for mid-term and long-term targets, as well as reducing security votes and increasing votes for security.