Hon. Ademola Adegoroye, A Destined Federal Minister With The Wave Of Magic Wand —Dr Akeredolu O.N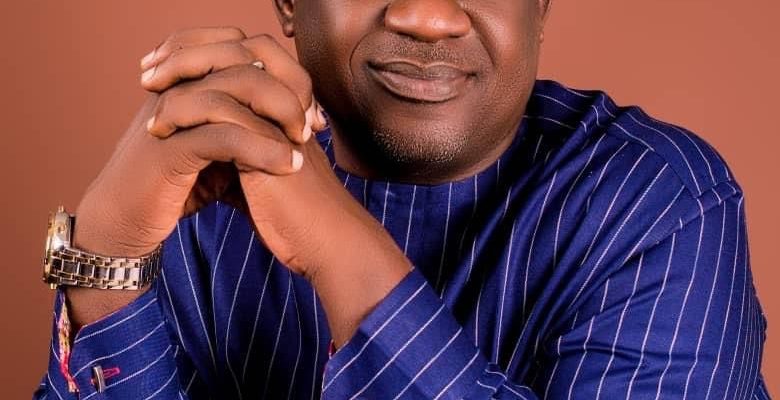 The events of life have proven to us that you don't need eternity to make impacts in your generation and beyond but destiny and determination have a crucial role to play. This can be confirmed in the life of our lord, Jesus Christ who started ministerial work at age of thirty years, did it for three and half years and died afterwards. The effects of Jesus' earthly ministry have been so great from generation to generation, still counting. Even in Nigerian history, the best head of state ever was General Muritala Muhammed, he became military leader at 37 years of age, ruled Nigeria for 6 months before he was assassinated by Leut. Col. Buka Suwa Dimka, in a failed coup of 1976. However, the impact of this transient administration is everywhere in the country, being seen as a caring heart military commander, most of us in Ondo state can't forget him in a hurry as he created our sunshine state during his stay in the seat of power before the untimely death.
In the same vein, Captain Thomas Sankara remains the best military head of state in Africa, reigned in Burkina Faso between 1983 to 1987, died following a coup from his deputy cum friend, Captain Blaise Campore, nevertheless, this four year old government has indelible marks among the African political historians till date. In terms of revolutionary thinking and policies in regard to education, health, civil service, Agriculture and other sectors of economy, this enigmatic leader outshined his contemporaries who seized power through guns and ammunition. In Nigeria, Gen. Abdulsalam Abubakar who headed the brigade of honour that paraded before the outgoing head of state in 1979, Gen. Olusegun Obasanjo, during the hand-over ceremony to Alhaji Shehu Shagari led civilian government,he was fortunate to lead Nigeria following the demise of Gen. Sanni Abacha. This Niger state military career officer ruled the country for 9 months, founded our current and longest democratic dispensation of over two decades.
Since 1999, Ondo state had been producing representatives in the federal cabinets termed federal ministers, appointed by the subsequent presidents, put in charge of federal ministries. The likes of Dr Olusegun Agagu, Bar.(Mrs) Omobolaji Osomo, Dr Olusegun Rahman Mimiko, Dr Adewumi Abitoye, Mr Tokunbo Kayode SAN, Mrs Omobolaji Johnson, Professor Cornelius Daramola, Sen. Tayo Alasoadura and Bar. Ademola Adegoroye from Okitipupa, Ese-odo,Ondo,Owo,Akoko and Akure areas were our ambassadors at the federal executive council (FEC). These aforementioned individuals had been privileged to represent the sunshine state in the federal arm of goverment being chaired by different presidents and comanders in chief of armed forces. The Iju-odo born lecturer turned politician, Dr Olusegun Agagu was appointed as the minister of Aviation 1999 after he lost his governorship election to Chief Adebayo Adefarati a.k.a Baba peace, of AD and his party, PDP, won at federal level, he was later moved to the ministry of power and steel to replace Chief Bola Ige who was transferred to ministry of justice.
Likewise, Chief (Mrs)Mobolaji Osomo, the only woman who served in Chief Adekunle Ajasin's progressive administration as the commissioner for trade, commerce and cooperatives. Having tried hard to govern the state through Alliance for Democracy in 1998/99, she failed to Chief Adebayo Adefarati in the primaries of the party. Like other politicians, she changed gear and moved to PDP, contested against Dr Olusegun Agagu in PDP primaries of 2003, lost to him and she was compensated with the ministerial slot for Ondo state, overseen the ministry of housing, fired by president Olusegun Obasanjo over the sales of government properties in her jurisdiction because she didn't follow the due process. Following her relief by the Baba Iyabo from his cabinet, Dr Olusegun Mimiko was promoted from being the secretary to Ondo state government and moved to Abuja, substituted for this foremost woman politician in the same ministry and capacity, however, Iroko of Ondo state's politics resigned towards the mid of 2006 to contest the governorship of 2007 under the Labour party. This time, Dr Adewumi Abitoye, a medical doctor and former chairman of Owo local government during NRC/SDP's era of General Ibrahim Babangida, was appointed and designated over the federal ministry of education.
The 2007's general elections were characterized by a lot of troubles, flaws and challenges, Mr Tokunbo Kayode SAN who earlier lost in Ondo North senatorial primary of PDP to Chief Dr. Bode Olajumoke was pacified with a ministerial appointment, served in the labour, defence, culture and tourism's ministries between 2007 to 2011. After the re-election of Dr Goodluck Jonathan as the Nigerian president, Mrs Mobolaji Johnson from Ondo town was nominated and the became federal minister of communication. The government changed power at central in 2015, president Muhamadu Buhari took over the leadership of the country and Prof Cornelius Daramola from Okitipupa local government was seconded to ministry of Niger-delta(state) for four years. He was replaced with Sen. Tayo Alasoadura from Akure North local government in 2019, of the same ministry. This Sen Alash resigned to contest at the last primaries for senatorial seat of Ondo central, this paved way for the prince of Akure (Oyemekun) who served for just nine months, Hon Ademola Adegoroye changed the narrative and raised standard for subsequent individuals who will serve at this category in future .
The achievements of this former house of assembly member within this short period are beyond human comprehension. I never liked his style of politics, infact, I wrote an article to attack him immediately he was appointed, judging a book by its cover, however, the wonders brought to the state as the dividends of democracy have proven wrong my earlier opinion about him. The case of this former AC and APC governorship candidate/aspirant is a replica of Nazareth in the Bible, a city in which no one believed anything good could come from, however, produced the Messiah of the world. Asides that our teeming youths across the state were employed into the parastatals under his ministry, I don't need to re-echo the approval of the age-long Ondo sea port, currently the talk of the town, he did the magic. The last straw that broke the camel's back was the flag-up of the dualization, Akure to Ado Ekiti roads, over 90 billion naira worth of project. The minister of work and housing, Mr Raji Fashola SAN, who couldn't hold himself because of awesome personality of Akure (Oyemekun) noble prince, confessed that Hon. Ademola Adegoroye almost suffocated life from him by his( Hon. Ademola Adegoroye's) incessant daily phone calls on the project that led to its actualization . If I'm to be sincere with myself and putting into perspective, my belief that public offices should be used for benefits of the populace, I think we have never had it this good in history of ministerial representation from the state.
In a sane clime, this kind of man doesn't need any lobby to continue at that position or betterstill, he should replace Aketi as the next governor instead others we are not sure of what they will do if they are given the coveted number one seat of sunshine state but our retrogressive thinking and attitude would prefer zoning to performance, I should rest my case in this regard before the social media political jobbers would quote me out of context . Having achieved the above stated amazing records in the stint of nine months, Hon. Ademola Adegoroye deserves to continue in public offices for more dividends of democracy to our people and I believe the long awaited political leader of Akure visa-vis Ondo state has arrived, you are welcome sir, Omo owa, Omo Ekun, Omo Agbobo moja, Erinle Akure Agbe o , kabo Aba. .
Dr Akeredolu O.N, leader Aketi Medical Team 2016, vice chairman, Aketi-Ayedatiwa medical committee, 2020