Shooting rocks Ikare carnival, many Injured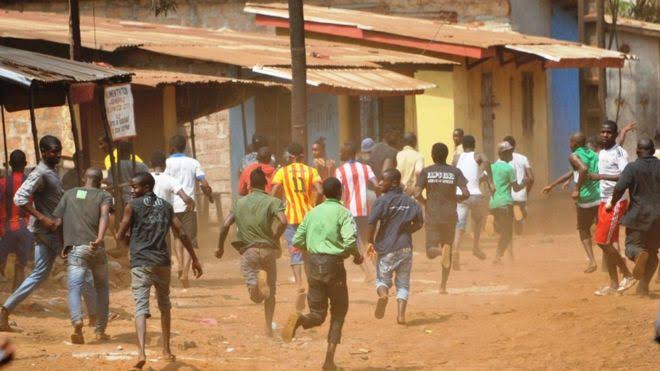 Residents of Ikare-Akoko in Akoko North East Local Government Area of Ondo, on Tuesday, shoved and jabbed each other following a pandemonium that resorted to sprodic shootings by two rival groups in the area.
It was learnt that the bloody crisis left life-threatening injuries on some members of the duo groups.
It was further gathered that an attempt by a group of youths to stage New Year Carnival yesterday at Okoja area which attracted resistance from an opposing section of the community led to the melee.
Ikare Akoko has a record of periodic communal clashes caused by Obaship tussle when the community divided into two factions.
The town had been engulfed in communal crisis for sometimes which also led to the closure of the Ikare central mosque for several months.
Some Residents who spoke on the situation, commended Governor Akeredolu's efforts in addressing the obaship tussle in the town.
They called on Governor Rotimi Akeredolu as the father and the chief security officer of ondo state to intervene and find a lasting solution to Ikare frequent crisis.
As at the time of filing in this report the full details of the incident is unknown but report indicates that there was bloody clash and sporadic shooting going on in the ancient town and everywhere is deserted while security men are being deployed.
OMOYE KLOB YOUTH WING CONDEMNS THE INCESSANT CLASHES IN THE TOWN
Yesterday while we were recognizing our prominent sons and daughters at our end of the year celebration for their contributions to the growth and development of Ikare, news filtered in of another communal clash within the town. These incessant clashes have become like a recurrent bad dream keeping us awake at odd hours, making it impossible for us to develop at the pace expected of the town of our standing.
Omoye club youth wing condemns these clashes in the strongest terms possible. It is disappointing that a town known for commercial prosperity, industry and peace will abandon it self to such mindless terror and unease slowing it progress and commerce in the process.
We call on the Governor of Ondo state, Arakunrin Oluwarotimi Akeredolu to identify the unscrupulous elements finning the embers of these unrests and bring them to book.
We are also using this avenue to urge him to get to the root of the matter and find a lasting solution to this lingering crisis once and for all. It is tiring. It is mindless. It is giving us a name we do not wish to be known by.
We call on all peace loving and well meaning indigene of the town to embrace peace and shun all acts of violence as no society can develop in an atmosphere that is devoid of peace. Otoge ooh! Esin mi ogun!